Pharma CEO Series
An Evening with Lewis T. "Rusty" Williams, M.D., Ph.D., Founder, President & CEO of FivePrime Therapeutics (NASD: FPRX)
Fireside Chat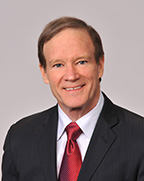 Lewis T. "Rusty" Williams, M.D., Ph.D.
Founder, President, CEO and Chairman of the Board, Five Prime
Five Prime Therapeutics, Inc. (FPRX), is a leading clinical-stage biotechnology company focused on discovering and developing cutting-edge immuno-oncology protein therapeutics.

Dr. Williams founded Five Prime Therapeutics, Inc. in December 2001 and has served as a member of the Board since January 2002, as the President and Chief Executive Officer since August 2011, as the Executive Chairman from July 2003 to January 2012, and as Chairman of the Board since March 2016.

Previously, Dr. Williams spent seven years at Chiron Corporation, a biopharmaceutical company, now Novartis Vaccines and Diagnostics, Inc., most recently as its Chief Scientific Officer. He also served on Chiron's board of directors from 1999 to 2001.

Prior to joining Chiron, Dr. Williams was a professor of medicine at the University of California, San Francisco and served as director of the University's Cardiovascular Research Institution and Daiichi Research Center. Dr. Williams also has served on the faculties of Harvard Medical School and Massachusetts General Hospital and co-founded COR Therapeutics, Inc., a biotechnology company focused on cardiovascular disease.

He is a member of the National Academy of Sciences and a fellow of the American Academy of Arts and Sciences. Dr. Williams currently serves on the board of directors of Protagonist Therapeutics, Inc. and was previously a member of the boards of directors of COR Therapeutics, Inc. and Beckman Coulter, Inc., each of which was a public company. Dr. Williams received a B.S. from Rice University and an M.D. and a Ph.D. from Duke University.