MBA ADMISSIONS – Back to Normal?
The Harvard Club of San Francisco invites you to our MBA Admissions Annual Event. Betsy Massar, HBS grad and founder of Master Admissions will facilitate a panel of five current students and recent grads who can share tips so that you can be successful in your application journey.
Panelists will draw from their own successful experiences as well as those of their peers, to help you understand how you can improve your profile to get into the business, or graduate school of their choice.

Tuesday July 13, 5:30PM – 6:45 PM Pacific Time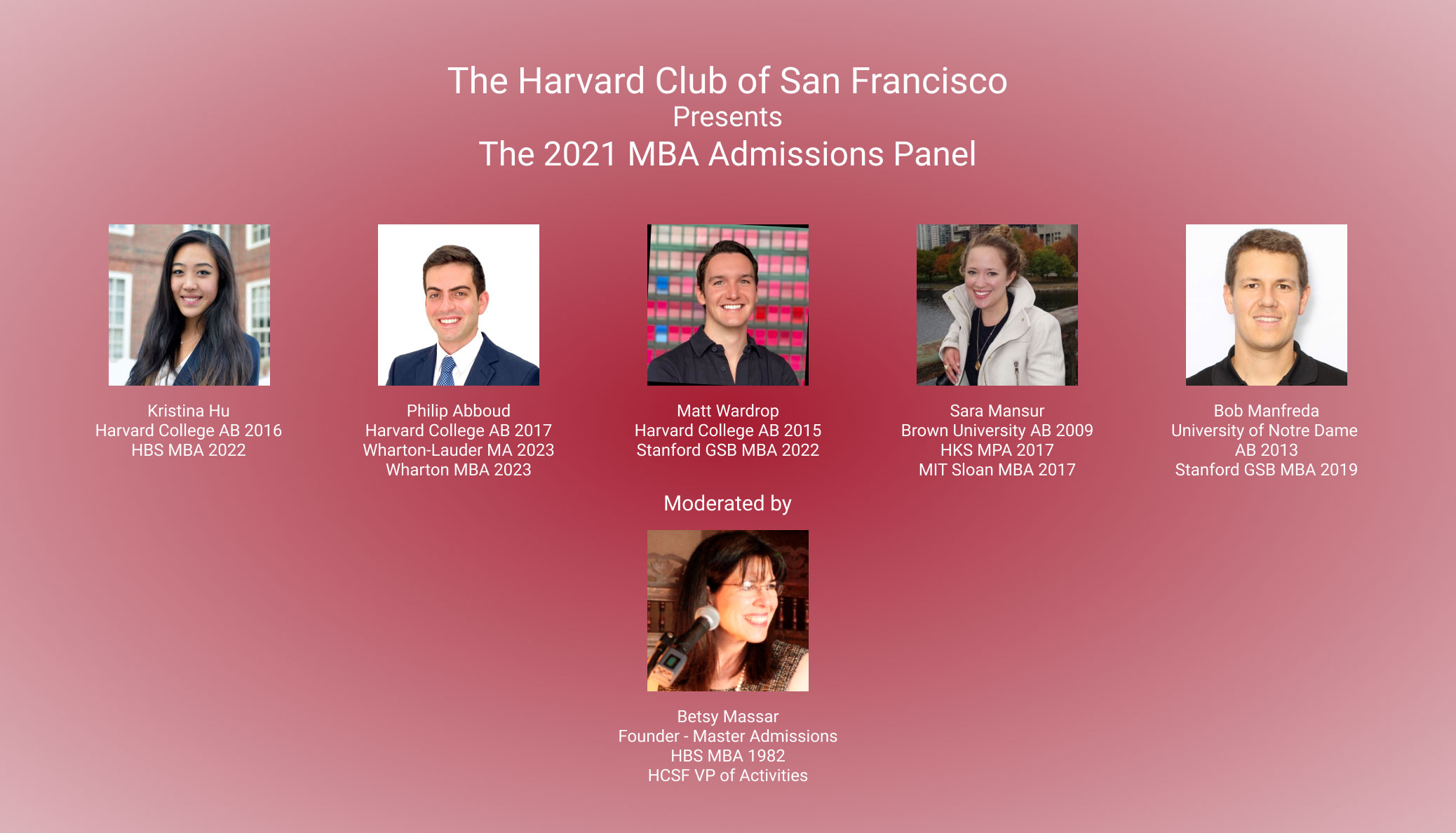 Philip Abboud, Wharton/Lauder '23, Harvard College '17
Kristina Hu, HBS '22, Harvard College '16
Bob Manfreda, Stanford GSB '19, Notre Dame, '13
Sara Mansur, MIT Sloan/Harvard Kennedy School, '17, Brown University '09
Matt Wardrop, Stanford GSB '22, Harvard College '15

Betsy will facilitate a lively Q&A, with panelists and audience participants about school choice, joint-degree programs, careers, GMAT/GRE, leadership, extra-curriculars, and virtual networking. In the past, students who have attended this event have been admitted to HBS, Stanford, Wharton, CBS, Berkeley Haas, MIT Sloan, Chicago Booth, Kellogg, Tuck, and more! Here's the best part – admission for HCSF members, at least to this event, is free.

Details:
Virtual Event
Tuesday July 13, 5:30PM – 6:45 PM Pacific Time
HCSF members FREE
$10 for non-members

Click here to register

Event Registration (Harvard Alumni):
Please sign in with your HarvardKey otherwise a duplicate record will be created and you will not be able to log-in.
No HarvardKey? Please retrieve your HarvardKey here. If you need help, email ithelp@harvard.edu or call 617-495-7777

Zoom link is provided in the event registration confirmation email and at the link below.
Event Registrants: view Zoom meeting information here (please remember to sign in before you click on the link)

Organized by
Elisa Dun, HLS '16 edun@jd16.law.harvard.edu
Michael Hissey - Harvard College '18 - mfhissey@gmail.com
Betsy Massar, VP HCSF betsy@masteradmissions.com