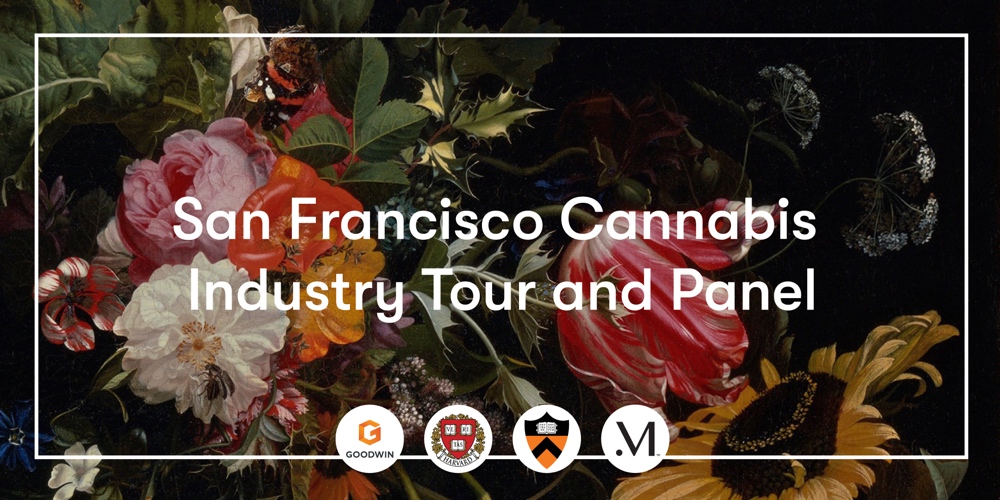 Cannabis Policy Event - SOLD OUT!
On the afternoon of Wednesday, June 5th you'll be guided across the city by industry professionals, Ericka Olson and Greg Long, co-founders of SF cannabis brand, Murmmr. From seed to sale, you'll tour the newest, state-of-the art facilities for growing, processing, and selling cannabis.

The tour will end at the Riddler bar in Hayes Valley for a moderated panel of local industry experts. Speakers from government, manufacturing, legal, and canna-investment will discuss this rapidly-changing industry. The focus of the panel will be local opportunities, impacts, and needed public policy evolution surrounding legal cannabis.

Tickets for this educational, not-for-profit tour are limited to just 25. This is in-part due to the requirements of the SF Office of Cannabis and their process for reviewing and approving all tour members when visiting working cannabis facilities. Until 2019, tours of this nature in San Francisco were prohibited. The cut-off date for ticket purchase is May 21st as the SF Office of Cannabis requires a complete list of participants one week in advance.

Ticket price: $125 per person

Wednesday June 5th
SOLD OUT!

12:30: Bus picks up the tour group in Hayes Valley
1pm - 1:45 - Tour of Eve Farms cannabis grow operations
2:10 - 2:50 - Tour of 2nd cannabis operation (TBD)
3:05 - 3:45 - Dispensary tour of Moe Greens
4:00 - 4:30 - Drinks, hors d'oeuvres at the Riddler in Hayes Valley
4:30 - 5:30 - Panel discussion and audience questions
5:30 - 6:00 - Networking

Panel Moderator:
Lynne Lyman, (Harvard Kennedy School, MPA) & Former Director CA Drug Policy Alliance

Panel Participants:
Morgan Paxhia, Principal, Poseidon Ventures
Marissa Rodriguez, Director of SF Office of Cannabis
Eugene Hillsman, Acting Director of SF Office of Cannabis
Senior Investor Relations Specialist, NorCal Cannabis
Brett Schuman, (Harvard Law School, JD) SF Office Chair & Co-chair Cannabis Practice, Goodwin Procter LLP
Ruth Epstein, (Harvard Business School, MBA) Partner BGP Advisors, Interim CFO/COO Treez

Event Organizer
Steven Rahman
steven.rahman@gmail.com
When:
12:30PM - 6:00PM Wed 5 Jun 2019, Pacific timezone

Where:
The Riddler
528 Laguna St
San Francisco, CA 94102
[ Get Directions ]
Enter Waitlist Here...