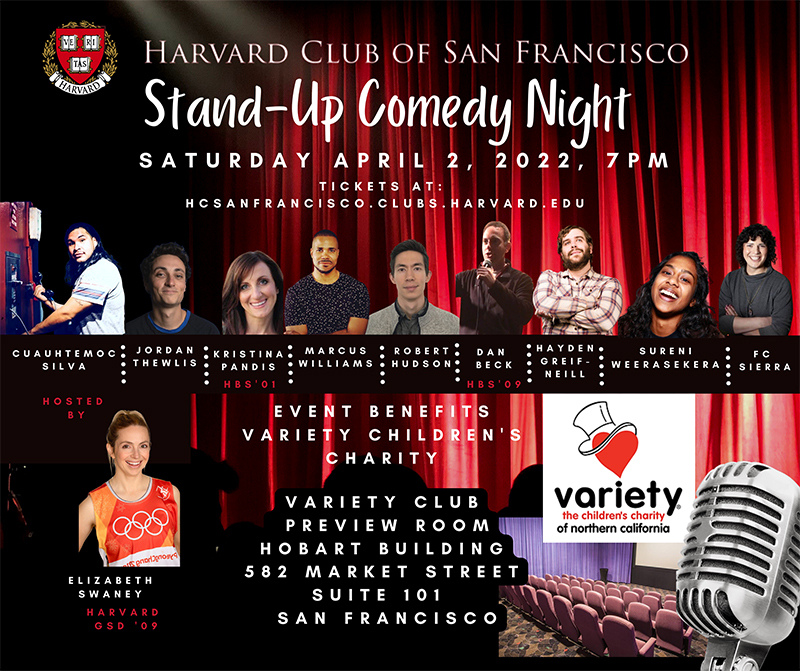 Harvard Club of San Francisco Stand Up Comedy Night
Join the Harvard Club of San Francisco at the organization's first comedy show, featuring Harvard alums and also other Bay Area comedy favorites.
Saturday, April 2, 2022
7:00pm - 10:00pm PT

Event Benefit Variety Children's Charity of Northern California

Tickets: $15 HCSF Members
$25 Non-Members
No refunds after Thursday, March 31

Variety Club Preview Room
Hobart Building, 582 Market Street, Suite 101

When registering for this event you are confirming that you are fully vaccinated and boosted.
SOLD OUT!

Comedy Bios:

Cuauhtemoc Silva:
Cuauhtemoc is a Native American comedian, storyteller, and martial artist. He was born in San Francisco.

Jordan Thewlis:
Jordan is a Bay Area-based comedian and writer. He's a Daily Contributor to The Onion. His stand-up has been featured in SF Sketchfest and SF Comic-Con. Jordan is also a lead producer of Don't Tell Comedy and runs two weekly shows in Oakland: Comedy Oscar and Deadass Comedy.

Marcus Williams:
Marcus is a Bay Area-based comedian who has been featured at SF Sketchfest and Punch Line San Francisco. He's also performed stand-up comedy on a baseball diamond.

Robert Hudson:
Robert is a Bay Area comic who has performed at Punch Line San Francisco and Cobb's Comedy Club. He's also been given the title of 'The Pokémon Comedian' for his comedy shows and viral videos in the hobby of card collecting.

Dan Beck:
Dan got his big start in standup comedy in the Harvard Business School 2009 Talent Show (his performance is still available on YouTube). Since 2015 he has been taking advanced standup classes at the San Francisco Comedy College - and he is proud that he has never graduated. His goal in 2022 is to do more standup outside of the comedy college." Dan is an HBS '09 graduate.

Hayden Greif-Neill
Hayden is from Oakland and tells quirky jokes about animals and about how joining ISIS is a good second date. Hayden has performed at SF Sketchfest, the Cape Fear Comedy Festival and the Cream City Comedy Festival. He also produces Critical Hit, a weekly comedy show at a board game store in Oakland and that's just fine.

FC Sierra:
For the past decade, FC has traveled through the United States, eating from vending machines and promoting the love of 3 things: America, romance, and butts. Sweating profusely and speaking loudly, with electric and fast-paced storytelling, FC's credits include the Santa Cruz Comedy Festival, the Savage Henry Comedy Festival, and a persona best 12-minute mile (Doctors still haven't solved the sweating issue).

Sureni Weerasekera:
Sureni Weerasekera is a Sri Lankan-born, San Diego-raised, & San Francisco-based stand up comedian, actor and writer. She is known for her lighthearted, conversational banter to her ruthless, dark jabs that shed light on cultural dilemmas in a palatable, enticing way. She has featured at 2021/2022 SF Sketchfest and Desi Comedy Festival.

Kristina Pandis:
Kristina is from Macedonia, which is not the smallest, but definitely the most unknown country in the world. She's been dubbed "Macedonia's funniest female comic", in part because no one else showed up to claim the title. Kristina's life experiences as an immigrant have influenced and inspired her hilarious view of the world. Kristina has performed at SF Punchline, The Comic Strip, Hollywood Improv, Comedy Store, Laugh Factory, and other comedy clubs across the country. Kristina is an HBS '01 graduate.

Elizabeth Swaney:
Elizabeth started in stand-up comedy by surprise on 04-20-2021 after a friend asked her while watching a comedy show, to also perform that night. Prior to comedy, Elizabeth competed in the 2018 Winter Olympics in freestyle skiing and on American Ninja Warrior Season 10. Since then, she's performed stand-up comedy in clubs around San Francisco, Los Angeles, and New York City. Elizabeth is a Harvard GSD '09 graduate, Bay Area native, and stunt performer in films.

When registering for this event you are confirming that you are fully vaccinated and boosted.

Click here to register

Event Registration (Harvard Alumni):
Please sign in with your HarvardKey otherwise a duplicate record will be created and you will not be able to log-in.
No HarvardKey? Please retrieve your HarvardKey here. If you need help, email ithelp@harvard.edu or call 617-495-7777

Registration problems please contact Kirsten Pickford at info@harvardclubsf.org.
Event Organizer
Elizabeth Swaney
eswaney@gmail.com


When:
7:30PM - 10:30PM Sat 2 Apr 2022, Pacific timezone

Where:
Hobart Building
582 Market Street Suite 101
San Francisco, CA
[ Get Directions ]
Enter Waitlist Here...