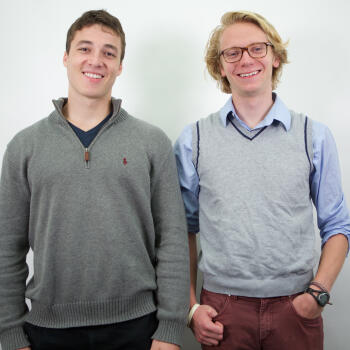 Cole Scanlon & Luke Heine
FAIR Opportunity Project Mentor Network: Guiding First-Generation College Bound Students
Harvard recent grads founded a successful non-profit for mentoring first-gen college bound high school students. Find out how you can mentor too.
Come learn about mentoring first-gen college bound high school students! Luke Heine and Cole Scanlon founded the Fair Opportunity Project in 2017 to empower all students to access and afford college. They now have volunteers from across the country to mentor students on the college application process and level the playing field. Harvard graduates Luke, Cole and volunteer Sam Sokolsky-Tiff will describe the mentorship program, regale us with stories about their experiences, and tell us how we can get involved as virtual mentors to their motivated students.
.
Featured Panelists:
Luke Heine '17 https://www.linkedin.com/in/lukeheine/
Luke grew up in rural northern Minnesota, studied sociology and computer science while at Harvard and now also runs a YC-backed software company. He started Fair Opportunity Project as he found out about financial aid while in a takeout line and believes affording college shouldn't come down to circumstance.
.
Cole Scanlon '18 https://www.linkedin.com/in/colescanlon/
Cole grew up in Miami, Florida and attended a large urban public high school with approximately one counselor for every 800 students. He earned a B.A. in applied mathematics from Harvard College and M.Sc. in social policy at Oxford University. As the son of a high school teacher and grandson of a high school counselor, he was instilled with the importance of education at a young age and wants to extend opportunities to others.
.
Sam Sokolsky-Tifft '15 https://www.linkedin.com/in/samuelsokolsky-tifft/
Sam grew up in western Massachusetts, where he learned about the vast variance in opportunities for public school students, and the importance of mentors in opening up worlds of life and luck. He earned a BA in History and Literature from Harvard College and an MA and PhD in Political Thought and Intellectual History from the University of Cambridge. Sam is a postdoctoral fellow in History at Purdue University.
.
Tuesday, October 25, 2022
5:30 to 6:30 PM PDT
.
Zoom meeting link and dial-in information will be sent the day of the event at noon to those who RSVP. Please make sure you are all set to use Zoom before the conference. Click here to Get Started on Zoom.
.
Event Registration (Harvard Alumni):
Please sign in with your HarvardKey otherwise a duplicate record will be created and you will not be able to log-in.
No HarvardKey? Please retrieve your HarvardKey here. If you need help, email ithelp@harvard.edu or call 617-495-7777
.
Organizers:
Carole Trone, Executive Director, Fair Opportunity Project
carole@fairopportunityproject.org
.
Betsy Massar, VP Activities HCSF
.
About Fair Opportunity Project:
Fair Opportunity Project is a nationally-focused nonprofit organization that empowers low-income, first-generation students to access and afford college. Founded by Harvard students in 2017, we offer a digital portal of curated, comprehensive resources on all aspects of the college application process. Our student-facing materials are primarily created by a diverse pool of current college students who compile the highest quality college admissions and financial aid information and tools. Fair Opportunity Project's resources have been accessed by over 200,000 users across 204 countries, which has resulted in the award Forbes 30 under 30 and features in the New York Times, Thrillest, the Harvard Ed Magazine, Study Breaks Magazine, and the Harvard Gazette. We have also launched Fair Opportunity X, a joint project with Harvard's LabXchange. You can learn more about us through this video.